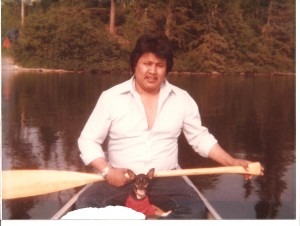 Joshim Kakegamic was born at the Sandy Lake Reserve, Northern Ontario in 1952. As a young artist he was very much influenced by his brother-in-law, Norval Morrisseau and fellow Cree artist, Carl Ray. He even joined Carl and Norval on a series of workshops in schools across the province. Not long after he became a full time artist and his first group showing was in North Bay in 1971.
During the 1970's and 80's Josh had many exhibitions throughout Canada and even took part in group exhibitions in London, England and Lahr, Germany.
Along with two of his brothers, Josh was also an innovator in the field of Indian print making. They established the Triple K press at Red Lake in 1973 and became the first company to reproduce prints of famous native paintings including those of Norval Morriseau.
Tragically, in 1993, whilst attempting to save a drowning person's life, Josh himself drowned at the age of 41.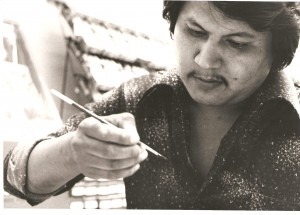 Josh (above and below) painting in the original K Bros Art Store in 1977 during one of his many trips to North Bay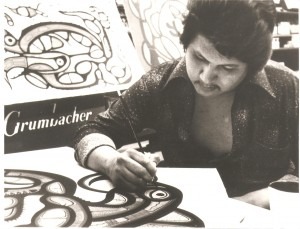 Born in 1948, Goyce Kakegamic is the older brother of Josh. His painting career started in the late 1960's where, like Josh, he was at first influenced by his brother-in-law, Norval Morrisseau and Carl Ray. He has long since become an accomplished artist in his own right and has held several exhibitions in Ontario.