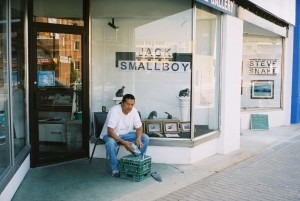 Jack was born in Moose Factory, Ontario in 1961. His father, Johnny Smallboy was a bushman who also made cedar carvings and became Jack's first artistic influence. From a young age Jack watched and studied his father's traditional methods and techniques.
A few years later Jack moved down to North Bay to attend Chippewa High School. He immediately entered drawing competitions, doing pictures of houses, trees and animals.
As Jack grew as an artist his influences became more widespread: from the native art of Norval Morrisseau and Benjamin Chee Chee, the Canadian Group of Seven, the American Norman Rockwell to science fiction and Walt Disney. On the sculpture side he admired the Inuit sculptors, who occasionally came to the hospital in Moose Factory when requiring treatment. Jack says: "Later, I combined my father's wood carving style and the Inuit style and made it my own."
As a young man Jack worked for a while as a carpenter before becoming a social counselor for kids who were having problems at school. Throughout this time Jack says: "I always had my art to keep me sane. I was always painting, drawing and sculpting."
Eventually Jack became a full time artist and has since sold many pieces to private collections. His work has been consistently featured in the gallery of the Kbros Maroosis Art Centre for over a decade.